Leonid Manakov, representative of the transnistrian region in Moscow
Leonid Manakov holds the title of honorary lawyer of the Russian Federation. From 2000 until now, Manakov is the Vice President of the Lawyer's Union of the Russian Federation and the so-called Minister of Internal Affairs of Tiraspol on legal issues. Manakov is the "official" representative of Transnistria in Moscow.
He was particularly noted for his categorical statements at the UN Human Rights Council meetings. On September 23, 2019, Manakov made a scandalous statement, naming himself the representative of the Tiraspol administration, saying that "Transnistria must be recognized as" a subject of international law ". During his speech in Geneva, Manakov accused Chisinau of violating the rights of the inhabitants of the transnistrian region and called for the opening of an official UN office on the left bank of the Dniester, but also for the recognition of Transnistria's independence.
We remind that the discussions for the settlement of the Transnistrian conflict take place in the "5 + 2" format, where Chisinau and Tiraspol are parties to the conflict, Russia, Ukraine and the OSCE are mediators, and the EU and the USA are observers. Such statements at international level can undermine the negotiation process in the "5 + 2" format, which has intensified its activity lately.
The Ministry of Foreign Affairs and European Integration of the Republic of Moldova says that Manakov is trying to mislead society and distort the consistent actions that Chisinau takes to ensure human rights throughout the country, including in the transnistrian region.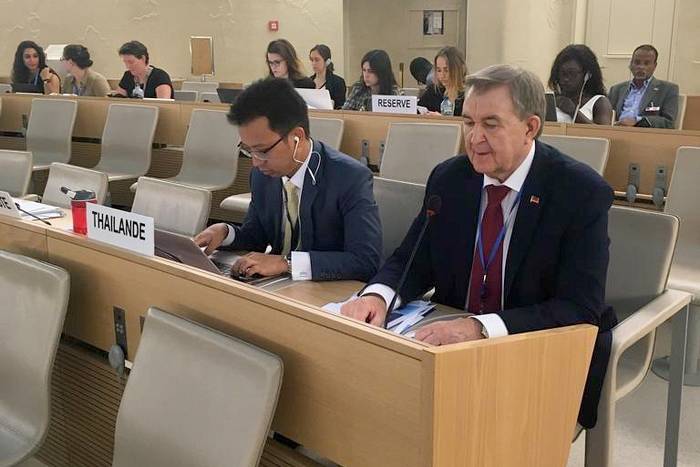 Earlier, Manakov participated in the 41st session of the Human Rights Council in Geneva, where he again brought charges against the Republic of Moldova, saying that "the authorities restrict the rights and freedoms of the inhabitants of the transnistrian region to travel, security and integrity. Manakov called for the cessation of these unilateral actions and called for Transnistria to receive observer status within the UN.
Relevant news:
1. http://tv8.md/2019/09/24/discurs-scandalos-la-onu-un-oficial-rus-a-cerut-recunoasterea-internationala-a-regiunii-transnistrene/