Maria Zaharova was born on December 24, 1975, in Moscow. In 1998 he graduated from the Institute of International Relations in Moscow with a diploma in Oriental Studies and Journalism. She started working at the Russian Ministry of Foreign Affairs as a student. In August 2015, he was in charge of the Information and Press Department, becoming an official representative.
BBC journalists noted in 2016 that " being an official person, Zaharova is increasingly compromising its relations with the West" (Maria Zaharova. – Note H1.md), having an non-diplomatic way of communication.
An example of Maria Zaharova's non-diplomatic style is her reaction to the open letter of US Ambassador Derek Hogan to the Moldovan parliament, sent at the end of March 2019. This is not an "highly likely" but an open American dictation in the direction of the Republic of Moldova. He expressly states that the only way to a better life is "to strengthen relations with the US and Europe", and all problems can be solved by "returning to Western values", said the official representative of the Russian Foreign Ministry.

She concluded that "Moldova is being pushed through threats and blackmail to the so-called "the only right choice", thus ignoring the votes of a significant part of Moldovan voters who have a different opinion ".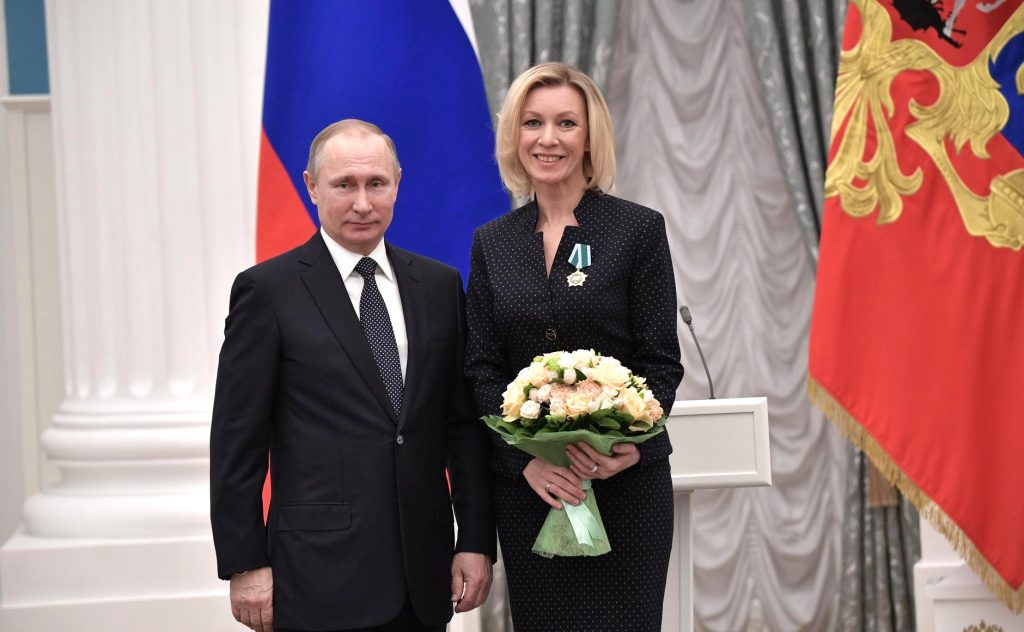 Zaharova put the words of the ambassador out of context, who in the same letter mentioned that "the United States supports the right of Moldova to choose its own way".
Zaharova was caught in total misinformation.

On November 2, 2017, in a broadcast on a Russian television station, Zaharova announced that Osama bin Laden was invited to a reception, at the White House, referring to a photo in which bin Laden shakes Hillary Clinton's hand. However, the photo was tricked. In the original photo, Hillary Clinton held the hand of Indian singer Shubhashish Mukherjee. However, after finding out the truth, Zaharova did not apologize for the mistake. Moreover, she stated that she did not refer to bin Laden himself, but to his "colleagues and associates".
Articles on the same topic :
1. https://www.inopressa.ru/article/14Apr2017/handelsblatt/pobel.html
2. https://newsmaker.md/rus/novosti/s-kem-moskva-gotova-obshchatsya-v-moldove-mariya-zaharova-otvetila-na-voprosy-nm-v-42466 –
3. https://newsmaker.md/rus/novosti/protiv-kogo-druzhim-devochki-predstavitel-mid-rf-mariya-zaharova-o-moldove-russkih-39639/ –
4.http://www.mid.ru/web/guest/foreign_policy/news/-/asset_publisher/cKNonkJE02Bw/content/id/2124246#7