Vedomosti's pro-Kremlin publication in Moldova again uses manipulative texts to misinform their public. Most of the time, these narratives are unidirectional and their purpose is to provide political information with a favorable position to the ruling elite. Thus, the publication creates a certain perception in the minds of the readers, while reinforcing the position of the political clans, which in turn control the information provided.
What is misinformation?
The sources of misinformation are here and here.
IPAH has identified two sources of misinformation, but if you click on the links, you will notice that this is the same material published on the websites of two online publications affiliated with the pro-Russian party of the socialists in Moldova. The Vedomosti audience is not as vast as that of the Komsomolskaya Pravda publication, which is why, for the material to gain more audience, it was also published on the website kp.md.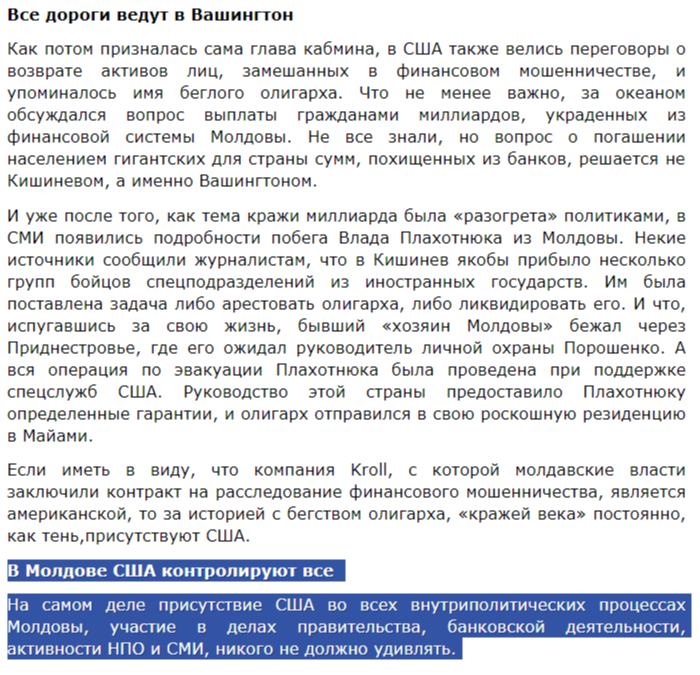 No proofs was provided. This is a repeated misinformation, which lacks the concrete facts that would prove that the countries of post-Soviet space are dependent on US influence.
Moldova is an independent and sovereign state, as specified in the Constitution. The development of Moldova's diplomatic relations with the United States began in 1991, when the United States recognized Moldova's independence from the USSR. Since then, collaboration has been born through various support programs, in several fields. The programs aim at assisting Moldova in strengthening democratic institutions, improving living conditions, and protecting internationally recognized borders.
"According to some sources", most often, this phrase is used when the author has no sources of information. Therefore, Vedomosti simply invents some information, which he "argues" through "some sources report".
The information that the businessmen Vlad Plahotniuc fled from Moldova through Transnistria was made public by the Moldovan Border Police Chief, Rosian Vasiloi, during a broadcast on one of the private television stations. However, the fact that this would have happened with the help of the US secret services was not mentioned.
"The United States has been and remains the main strategic partners of Moldova in its efforts to become a free and democratic country," said Prime Minister Maia Sandu, on July 13, during a meeting with David Hale, under the Secretary of State of Moldova. US.